Transfer Transactions
Introduction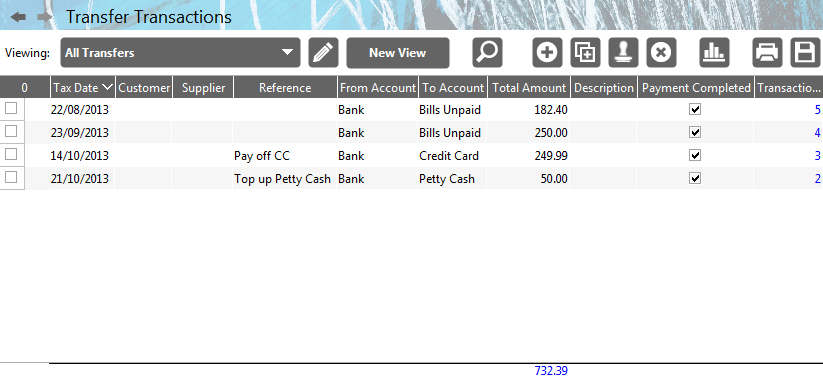 The Transfer Transactions component is where all transfer transactions are added, edited or deleted (hidden).
A transfer transaction is where money is moved from one account to another internally.
This is used for when you pay off your company credit card, or for when a sale/purchase on credit is actually paid.
Table Toolbar
The following tools are available via the tool bar above the table:
Select Current View Allows you to change the View that is currently in use by the table
Toggle View Editor Panel Shows/hides the View Editor Panel
Create New View Creates a New View based on the currently selected view
Search Shows/hides the table's Search Panel that allows you to search for key words (or amounts) in the current table
Create Transaction – create a new empty transaction
Copy Transaction – makes a copy of the currently selected transaction(s)
Create Transaction using Template - lets you pick a predefined Template Transaction from the drop-down menu to auto-insert commonly occurring transactions
Delete Transaction – hides the currently selected transaction(s) from view (use the default filter drop-down menu option from the Filter Selector to show all deleted transactions again – where you can also un-delete them if you wish)
Print – opens the Document Designer so you can select or design a suitable template for printing the current table of filtered transactions
Export as CSV File - opens a filer window so you can export the current table in a format suitable for loading into a spreadsheet (i.e. Comma Separated Values)
Visible Columns
The Transfer Transactions table displays the following columns by default:
Multiple Select - enables the user to select (and therefore copy/delete) multiple transactions
Tax Date – the date of the transaction for tax purposes
Reference – a reference value for the current transaction/entry
Customer – Choose the customer involved with this transaction
Supplier – Choose the supplier involved with this transaction
From Account – where the money came from (a sales account for a sale, a payment account for a purchase or, say, a bank for a transfer)
To Account – where the money went to (the bank if a sale, some expense account if a purchase or some other monetary account if a transfer, eg. VAT Control if you are paying your VAT Return)
Total Amount – the full total of the transaction
Description – any descriptive text
Payment Completed - Checking this column marks a transaction as 'paid' in the Statement table, and removes it
Transaction Number – an auto-generated number starting from 1 given to each transaction that should be written on to the source document that the transaction came from to aid later identification
Below is a list of columns that are hidden by default but are available to be added:
Cleared (From) – represents the 'from' side of the transaction as being cleared or not
Cleared (To) – represents the 'to' side of the transaction as being cleared or not
Currency Amount - This component is only available in the Business Suite version of Business Accountz. Please visit accountz.com for more information – the equivalent amount to Total Amount in the chosen foreign currency (as defined in the Currency Code column)
Currency Code - This component is only available in the Business Suite version of Business Accountz. Please visit accountz.com for more information – the 3 character currency code of the chosen foreign currency
Currency Rate - This component is only available in the Business Suite version of Business Accountz. Please visit accountz.com for more information – the exchange rate to use when converting between the native and chosen foreign currency (as defined in the Currency Code column)
Date Created – the actual creation date of this transaction (it may be different from the Tax Date or Paid Date)
Deleted – signifies if this transaction has been deleted or not. By default you only see non-deleted transactions but you can modify the Current Filter to show deleted transactions as well
Error Code – if the transaction is in error (has a red background) this column displays a description of the error.
Import ID - If the transaction has been imported, this details the source document and time/date of import
Lock - tick this column to lock an individual transaction
Notes - a place to record any additional notes about this transaction
Paid Date - the date on which this transaction was paid
Show Trader - Click this to open the record of the customer/supplier associated with this transaction
VAT Date - the date used for the relevant VAT return period