Change Company
Introduction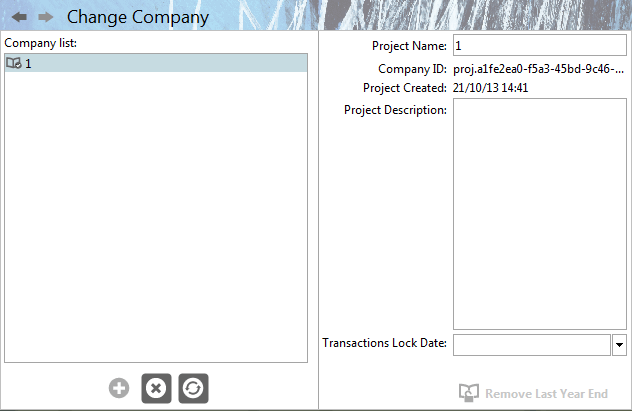 If you have a multi-company licence, this is where you can switch between companies, or change the name of the selected set of accounts.
Transaction lock date enables you to protect your accounts to the last period you had cleared and checked, eg. after a VAT return.
You can also enter some notes about your company here, for example your accountant's name and address.
Add New Company Button
By default Business Accountz is only licensed for one company, although your licence can be updated to allow for more companies. Please visit www.accountz.com for more details. Clicking this button starts the Company Setup Wizard.
Delete Existing Company Button
Please use with GREAT CARE. Selecting a company from the list (and by default that will be your only company - eg. all your company accounts) and clicking this button will remove the company and all its data. Why is it here? It is because you may want to experiment first before using the program for your real accounts. When you are ready to go, use this button to remove your test accounts. Then use the Add New Company button to start the Company Setup Wizard for your real accounts.
Load/Refresh Existing Company Button
If you do have a licence for more than one company, select the company whose accounts you want to view/edit from the list and click this button to load them in.
Transactions Lock date
Setting this will stop any transactions up to this date from being edited. It will also stop any transactions being dated before (and including) this date. If you are VAT registered, always set this date when you have completed a VAT return to stop accidental mistakes to earlier data.
Accounting Year Ends Unlock Button
After you run the Year End Wizard an entry will be made here. There is a button under the list that lets you delete the year end data. This lets you 'roll' back to the end of the year so you can edit it. Run the year end wizard again to finish. Note you must undo each in turn if for some reason you want to go back to earlier years.
Important: unless you are really sure you want to do this and realise the consequences, it is not recommended. Always make sure you make a backup before using this feature.