Easy Steps
The Easy Steps component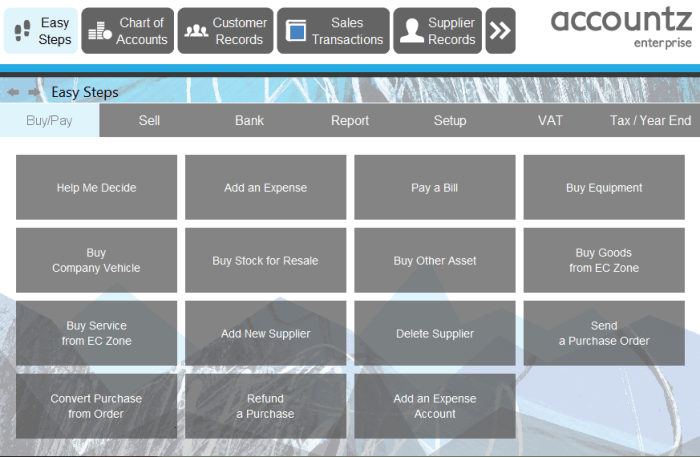 Central to the V3 edition of our software is the Easy Steps feature. It is situated in the main tool bar at the top of the application. It can also be accessed via the 'File' menu option in the top left of the screen.
Easy Steps takes most of the normal tasks you do on a day to day basis and simplifies them into a number of simple steps. If you are not sure what to do, then click on the Easy Steps icon and follow the instructions.
When you click on Easy Steps a new panel will open with a number of options across the top. Click on each section header (e.g. 'Buy/Pay') to see the options within that section.
Clicking on a tile launches a step by step wizard process to walk you through the selected task. The final screen of each Easy Steps process details the options selected thus far.
The final step for each process is the Finish button. Click this to complete the process.
Easy Processes
The Easy Steps feature covers the following processes (click on the header, e.g. 'Sell' to reveal the options within each section):
Buy/Pay
Help me decide
Add an Expense
Buy Equipment
Buy Company Vehicle
Buy Stock for Resale
Buy Other Asset
Buy Goods from EC Zone
Buy Service from EC Zone
Add New Supplier
Delete Supplier
Send a Purchase Order
Convert Purchase from Order
Refund a Purchase
Add an Expense Account
Sell
Sell Something on Credit
Send an Invoice
Sell Something for Cash/Cheque/Card
Add a New Customer
Delete Customer
Send a Quotation
Convert a Quote to Sale
Refund a Sale
Send a Credit Note
Add a Sales Account
Bank
Setup Direct Debit/Standing Order
Record Bank/Finance Charges
Top Up Petty Cash
Part Pay / Pay Credit Card Balance
Transfer to Another Bank
Record Drawings
Record PAYE and Payroll
Report
Profit and Loss
Balance Sheet
Trial Balance
Creditors
Debtors
Uncleared Transactions
Display current VAT Return
Set Up
Setup New Company
Opening Balances
Add a Bank Account
Add an Expense Account
Add a Sales Account
Templates Builder
Add a new Product
Local Backup Settings
Online Backup Settings
Restore a Backup
Make a Backup
VAT
VAT Options
Complete Flat Rate Return
VAT Payment / Refund to HMRC
Display Current VAT Return
Tax/Year End
Pay TAX/NIC
Complete Year End