Opening Balances
Click the Accounts Icon, or select Accounts>Accounts, Balances & Budgeting from the main menu to access the Accounts screen.
For this example we will set the opening balance (£500.00) for the Bank Account.
First, find your bank account. The fastest way is to open the search bar (click on the Magnifying Glass icon in the toolbar above your accounts in the left hand panel) and enter the name of your bank in there. Any part of it is fine. If you did not change your bank name in the setup wizard, just enter 'bank' (without the quote marks) and press the Enter key.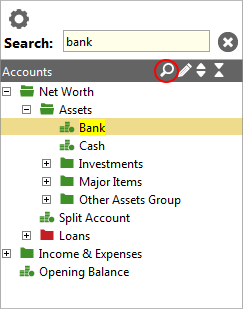 The account groups will open and the first account it finds that matches your search will be highlighted. Select that account and click on the Transactions tab.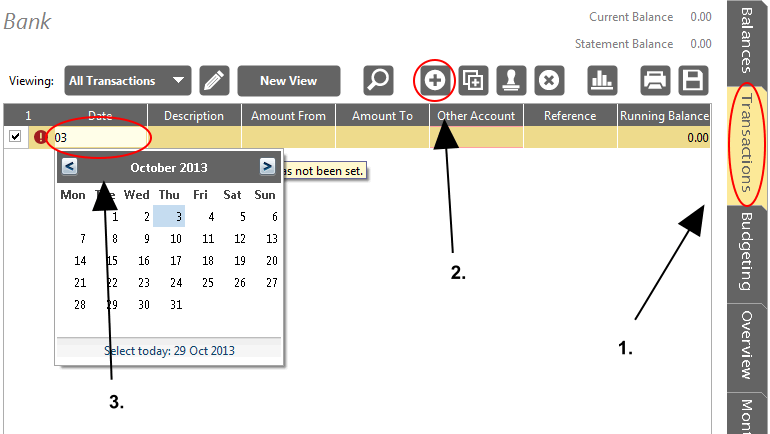 Click on the Add New Entry button
Enter the date of the opening balance into the date field.
You can type it in any format e.g. 14/04/2010 or 14.04.2010. You don't even have to type in the whole date, you can just type 14/04 and press enter. Home Accountz will fill in the rest for you.
When entering a date, if you hit the Enter key without typing any numbers, it will automatically enter today's date if there are no other entries in the table, or it will copy the date from the line above if one has been entered previously.
We need to tell the computer that we are entering an opening balance for Bank Account. Assuming the opening balance was positive (i.e. you had Amount To the bank and were not overdrawn) enter 500 in the Amount To column. You can track opening balances by connecting this entry with the default Opening Balances account. So select the Other Account field and start typing Open.. As soon as a match is found the drop down selector menu will display so you can pick the relevant account.
Select the Balances tab and check that your bank has a balance of 500.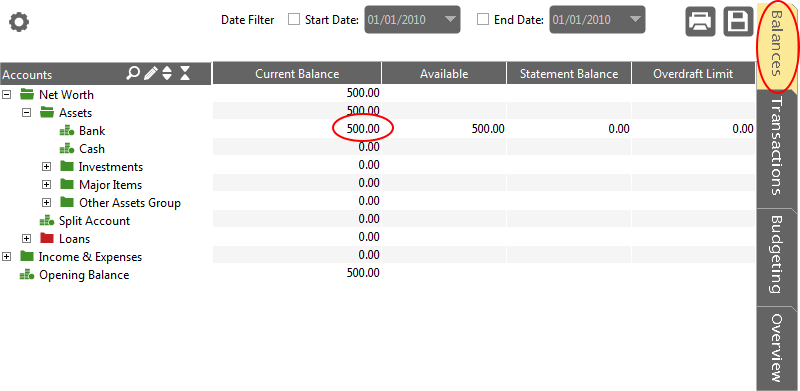 If your bank is overdrawn, then enter the amount in the Amount From column instead.